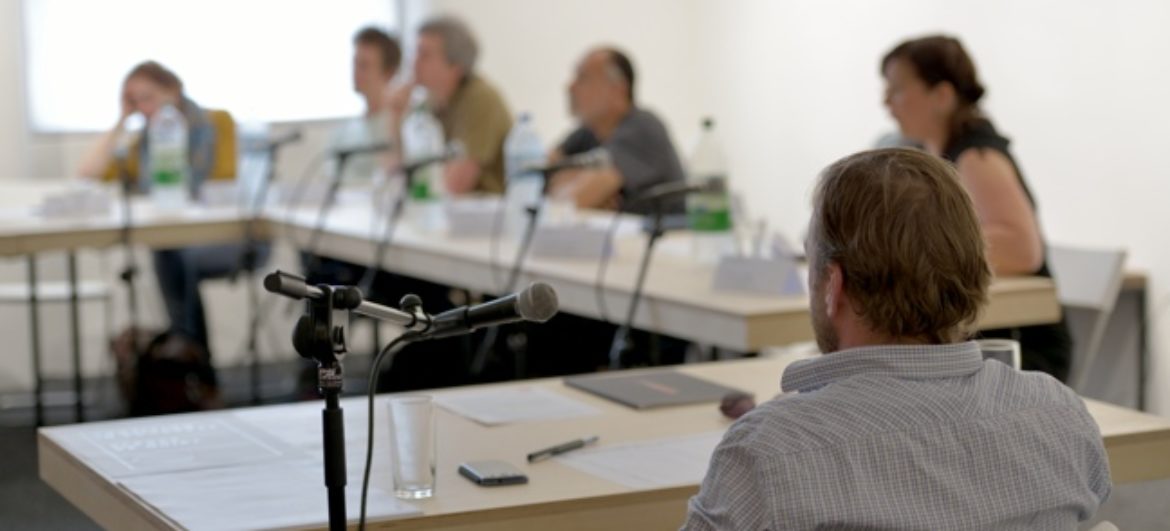 Partition
As part of Void Offsites, Void Gallery was pleased to present PARTITION. PARTITION invited a group of theorists, curators and artists to attend a two-day meeting at Void's Gallery 1, City Factory Gallery, Derry on the 16/17 July 2013.
The participants are:
John Byrne, Mary Conlon, Anna Dezeuze, Aislinn O'Donnell, Mark O'Kelly, Caoimhin Mac Gioll Leith, Francesco Manacorda, Seamus Nolan, Frederic Pradeau, Paul Sullivan, Padraig Timoney, Katherine Waugh, Eyal Weizman, Stephen Wright, George Yúdice.The Gallery will have a PARTITION built to create Room 1: Debate and Room 2: Exhibition.The Partition will interrogate the intellectual and physical line, the threshold, the divide, the wall between two sets of opposing ideas and conditions.
The question is what – if anything – should be located in Room 2?
The question itself allows us to consider not only the relevance of the art object and the gallery in contemporary art production and presentation but also the industry that supports and governs their respective existences.  The propositions and arguments developed by the participants over the two day meeting will either render Room 2 obsolete/empty (yet potentially even more charged due to its continued emptiness, especially in a white cube environment, and the expectancy to show an exhibition to the public) or it will be the site of an exhibition. The project also speculates on the role of the architect in the design of the future gallery. As many exhibitions, biennale's and art events take place outside of the 'designed' gallery space in locations such as redundant and/or refurbished industrial or commercial/civic spaces or even decommissioned airports, and as the proliferation of artists working in non-object based practice continues, architects and new gallery commissioners are left with somewhat of a design problem, that is, what exactly are they designing the new spaces for?
All the discussions of PARTITION were audio recorded and the deliberations were transcribed live. These thoughts, insights and observations will form the content for two PARTITION publications. PARTITION 1 was released on Friday 19 July 2013, two days after the initial meeting. Two stenographers were employed to transcribe the event live. PARTITION 2 was released in October 2013.