Void hosted the first solo exhibition in Ireland of the acclaimed British artist Mat Collishaw. First gaining prominence in the exhibition Freeze, the ground breaking show which transformed British Art, then in the influential "Sensation" show at the Royal Academy of Art in the nineties, marking the advent of what would become known as the YBAs [Young British Artists] Mat Collishaw's works have a long-standing engagement with the darker area between innocence and the profane, fascination and repulsion. Moving from his first shocking works of large-scale light boxes of bullet wounds his most recent work inhabits the darkly ethereal and Victoriana.
The works on display at Void are from the "murderme" collection, owned by Damien Hirst.They exemplify the artists fascination with the darker side of reality and fantasy. Both are a spectacular synthesis of modern optical technology and art historical subjects, hinting at symbolism and death. Both pieces exemplify the spectacle and wonderment that comes with that.
The Garden of Unearthly delights is a large zoetrope illuminated by stroboscopic lighting gives the illusion of movement to an assortment of sculpted impish figures engaged in acts of violence. The Victorian and modern technology generates a dark fairytale depiction that is fascinating and mesmerizing. Shooting Stars is an installation that uses found images of Victorian child prostitutes rendered onto phosphorescent painted walls. Projected images appear held in the light sensitive paint as fading ghostly figures and wraiths, appearing and disappearing in a mesmerizing and sad ethereal overlay. The array is powerfully affecting and disquieting. Playing on the idea of the forbidden the works provokes questions on voyeurism, spectacle, what is socially and morally forbidden.
This is a unique opportunity to see major works by one of the most prominent British contemporary Artists. The 'shooting stars' piece has only been shown once before in London's Haunch of Venison Gallery as it is a technically unique and darkly mesmerizing piece of work.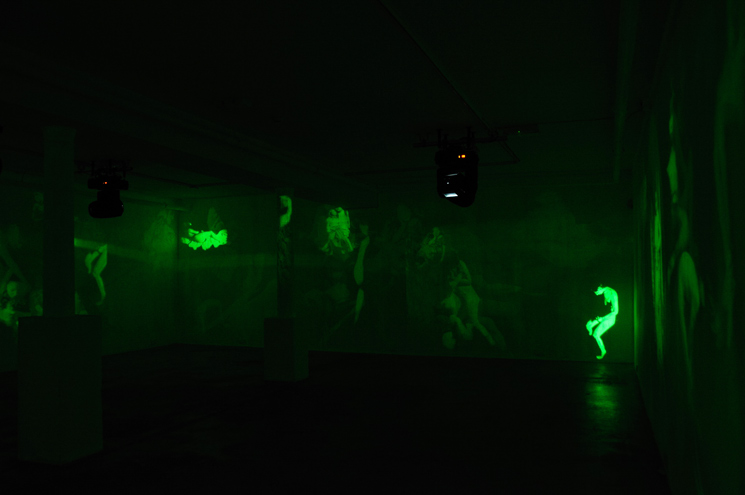 Mat Collishaw's Biography
Mat Collishaw (b. 1966) is a key figure in the important generation of British artists who emerged from Goldsmiths' College in the late 1980s. He participated in Freeze (1988) and since his first solo exhibition in 1990 has exhibited widely internationally.
Recent solo exhibitions include:
The Adoration of the Mystic Lamb, St Nicholas' Church Korenmarkt, Ghent, BE (2020-2021)
Mat Collishaw, Djanogly Gallery, Lakeside Arts, Nottingham, UK (2020-2021)
The End of Innocence, Fundació Sorigué, Lleida, ES (2019-2020)
Recent group exhibitions include:
London Calling. British Art Today. From David Hockney to Idris Khan, Fundación Bancaja, Valencia, ES (2021); UnNatural History, Herbert Art Gallery & Museum, Coventry, UK (2021); Fairy Round, Tate Britain, London, UK (2020-2021)
See more about Mat's work please visit his website
Acknowledgements
Void Gallery is supported by the Arts Council of Northern Ireland and Derry City Council.