Void is pleased to present :recalculating a solo show by Philip Napier.
In this passage I would like to make some connections linking this body of work to the genealogy of its own discipline and to this place and time.
Arguably the terror of a security vernacular has been swept away by a new culture of consumption, currency differential and centuries of prevailing economic ill wind of debility. A kind of chronic terror then.
English Emily the voice on my sat nav. does not like it when you have left the highlighted route. She struggles a bit with the pronunciation of places here also. The effort of acquiring satellites to locate the Global Positioning System is to be in touch, located, and to know where you are. However in terms of discovery to be beyond the known or highlighted route seems an interesting place for thought and action.
In this work at Void, I am interested in exploring a creative condition between known coordinates, by using the lever of the 1845 Franklin expedition which voyaged to the Canadian Arctic in an ultimately doomed attempt to discover the North West Passage linking Europe to China. That expedition became frozen in the arctic tundra and endured a slow descent from debility and dementia into privation, terror, death and hell. The fate of HMS Terror and HMS Erebus, bombships converted for exploration, became a Victorian cause celebre. English Emily the sat nav voice would have approved of the derring – do but not the ultimate cannibalism.
In our contemporary condition of global warming, The North West Passage is now beginning to open as a marine superhighway where the logic of economy is forefront, as power in the world shifts East. There is a conspicuous scramble for sovereignty in the 'high north'. Thus by searching for and locating the wreck of the Terror, Canada underwrites its arctic claims, – more for hard edged economic advantage than as a space of the romantic imagination.
For more about Philip's work please visit his website.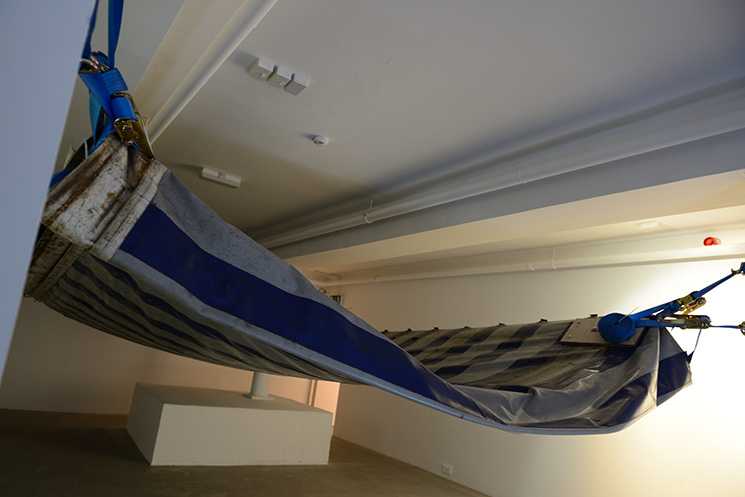 Philip Napier Biography
Philip Napier was born in Belfast in 1965 and studied at Manchester Polytechnic, Falmouth School of Art, Cornwall and the University of Ulster where he was awarded an MA in Fine Art in 1989. Napier's installation work is an interrogation and detonation of language around and through an axis of power.
In 1991 the artist was awarded the Arts Council of Northern Ireland's British School at Rome Fellowship and in 1994 he represented Ireland at the Sao Paolo Biennale in Brazil. His work has been shown in many exhibitions in Ireland, the UK and internationally, venues including the Irish Museum of Modern Art, Dublin, Santa Monica Museum, California, Centres George Pompidou, the Fenderesky Gallery, Belfast and Kerlin Gallery, Dublin. His work is included in the collection of the Arts Council of Great Britain.
Acknowledgements
Void Gallery is supported by the Arts Council of Northern Ireland and Derry City and Strabane District Council.