Unrealised Potential was a collaborative group exhibition that aims to explore the creative potential of artists' unrealised projects, blurring the lines between artist, curator, visitor and producer.
Mike Chavez-Dawson together with artists Sam Ely and Lynn Harris present an amassed collection of over 60 artists' unfulfilled proposals, offering visitors the opportunity to purchase the right to interpret and realise an artist's idea.
Liam Gillick's unrealised proposal PLANTA DE ANODIZADO was the first Unrealised Potential to be realised, reconceptualised and produced by artists Brian Reed and Len Horsey. Documentation will be displayed along with Gavin Wade's Strategic Questions 2002-2010 'What is wealth?' publication, a question which he recently commissioned RELAX (chiarenza & hauser & co) to answer.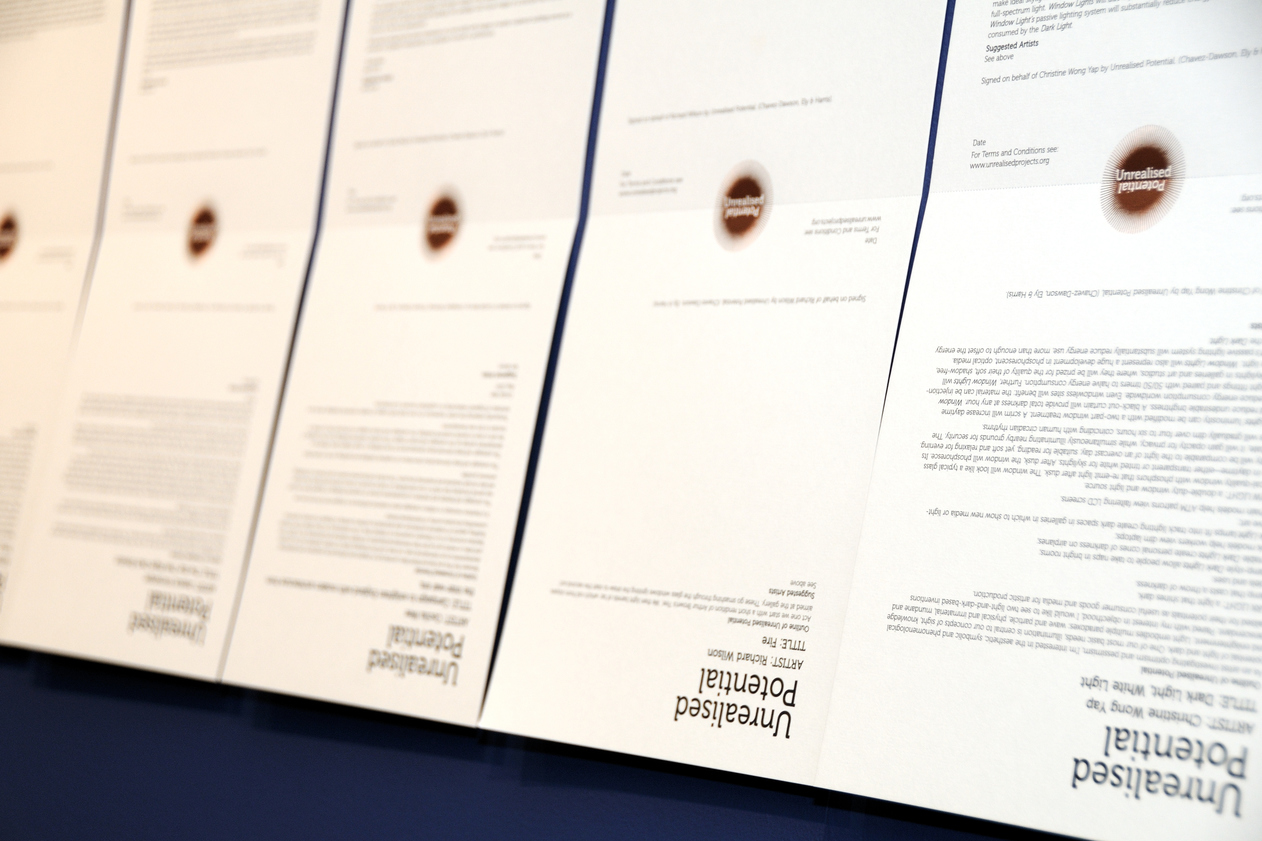 Featured artists include:
Anonymous, Artgoes, Artlab (Charlotte Cullinan & Jeanine Richards), Franko B , Edward Barton (Realised), Megan Bell, Bert & Ganddie, Monica Biagioli, Paul Anthony Black, Garth Bowden, Andrew Bracey, Roisin Byrne, Jane Chavez-Dawson, Norman Clayture (Realised), Conor McGarrigle, Contents May Vary, Benjamin Cove, Laura Cresser, Nick Crowe, Neil Cummings, Oliver East, Volker Eichelmann, Tim Etchells, Doug Fishbone, Leo Fitzmaurice, Yuen Fong Ling, Sue Fox, Mark Garry, Natalie Gale, Liam Gillick (Realised), David Gledhill, Susie Green, David Griffiths, Janet Griffiths, Harry Hill (Realised), Clare Hope, Len Horsey, Dave Hoyland, James Hutchinson, John Hyatt, Mark Kennard, Jessica Lack, Laurence Lane (Realised), Little Artists (Darren Neave & John Cake), Ant Macari, Leigh McCarthy, Roger McKinley, Jim Medway, Jason Minsky, Tom Morton, Neil Mulholland, Robin Nature-Bold, Franz Otto Novotny, Owl Project, Graham Parker, Simon Patterson, Adele Prince, Magnus Quaife, Brian Reed, David Shrigley, W. David Titley, D A Turnbull, Surplus Value, Beata Veszely, Jessica Voosanger, Cecilia Wee, Richard Wilson, Christine Wong Yap, Stuart Wright, YH485 Press, Kai-Oi Jay Yung
Please see the project at www.unrealisedprojects.org.
Acknowledgements
Void Gallery is supported by the Arts Council of Northern Ireland and Derry City and Strabane District Council.